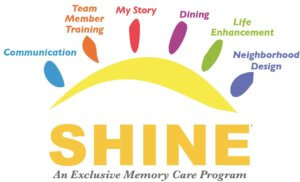 At Aston Gardens, we understand the challenges people with dementia face. When your loved one enters our Memory Care community, we'll guide and support them using a person-centered approach that's rated among the nation's very best.
Our SHINE® Memory Care curriculum has received a national Certificate of Recognition from the Alzheimer's Association®, the country's leading voluntary health organization dedicated to Alzheimer's care and research. It's a distinction shared by only eight memory care providers nationwide, and that's a true testament to the quality of SHINE®
SHINE® is a uniquely personalized approach to memory care that uses scientific principles to promote engagement, comprehension and lifestyle quality for seniors living with dementia, including Alzheimer's Disease and other memory-related conditions.
Our nurses and certified nurse assistants, with ongoing education and specialized training in memory care diseases, chart a course of exploration for each resident that touches on various, important aspects of life. Our SHINE® Memory Care program is designed to rebuild and preserve that which their affliction has taken from them. From quality meals to personalized care and attention, you can rest easy knowing your family members are in the best hands and receiving the finest-quality care. You have our word on it.